General News
Shocking: Akufo Addo was jabbed "Water Vaccine" not Covid-19 vaccine
Ghana was the first Africa country to receive the vaccine, this raise a concern and peoples started making comment about it.
His Excellency President Nana Addo Danquah Akufo Addo, was the first person to take the Corona vaccine together with his wife, in the public TV as to encourage Ghanaians to vaccinate or to encourage then to know that, the vaccine is safe to take.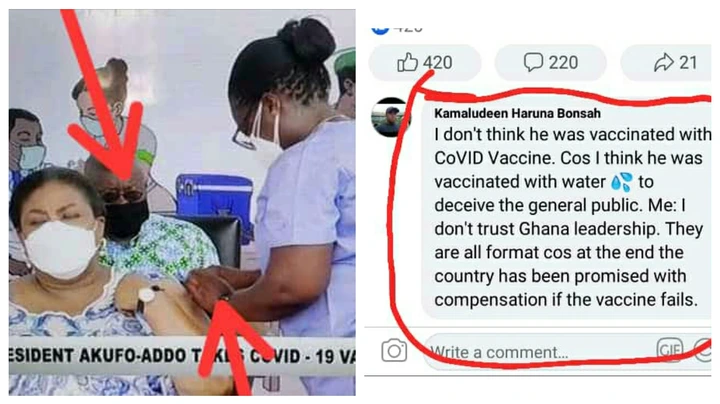 View 
So during the process of his vaccination, there was a lot of comment people were saying about as being positive and negative comments.
But there is one comment that someone made as, " I don't think he vaccinated with covid vaccine. Because I think He was vaccinated with water to deceive the general public. Me, I don't trust Ghana leadership. They are all format because at the end, the country has been promised for a compensation if the vaccine fail"
His comment says a lot, its seem like he know something about the vaccine, because I don't know what He meant by, the county has been promised with a compensation. Either it is true or not, its is advisable for us all to get vaccinated because, prevention is better than cure and your health too matter. What do you made of this comment please you can share to others because we need more education on this vaccine, before people can accept it.